CONTACT US
DIVISION 24 - Skateboard Store , The Old Vicarage , 24 Zetland Street , Wakefield, West Yorkshire , WF1 1QT
Email : click Contact
Phone : 01924 381300
Shops opening hours : Monday / Saturday - 10.00am til 5.00pm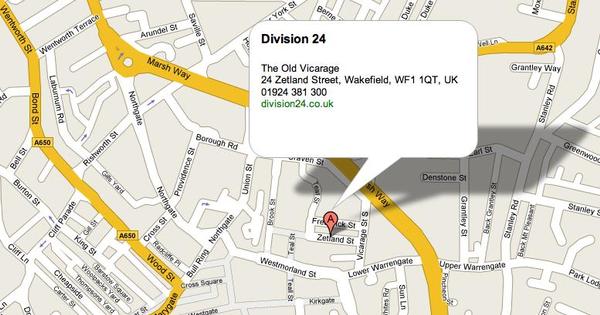 ABOUT US
Who are we
A brief history
Division 24 opened its doors in 2001 as a skater owned and operated store providing the local skate scene with skateboard / snowboard / surf products.
In 2005 we concentrated purely on the skate side of things , dropping snow and surf brands to offer a wider range of skateboarding essentials.
Over the years we have been a focal point for the youngsters. We have supported local events and sponsored up and coming riders.
Division 24 has gone from strength to strength , providing customers with top quality service , sound advice and one of the quickest delivery mail order services in the UK.
Thank you for your support , and please remember to buy from independent skater / rider owned shops where possible.
Shop Team :
Aiden Blaymire
Frank Spacey
Paul Watson
John Sykes
Alan Callaghan

Links to various clips & edits
Dangerous 6th Beer – By George Garthwaite
Division 24 at New Bird – Liverpool – By Ben Powell
http://sidewalk.mpora.com/skateboard-news/division-24-at-new-bird.html
Division 24 - WUG LYF – By Zak Saleh
http://sidewalk.mpora.com/skateboard-news/01924divisionyorkshirewuglyf.html
Paul 'WAPO' Watson 'First Light' interview from Sidewalk 206
http://sidewalk.mpora.com/skateboard-news/paul-wappo-watson-first-light-interview-sidewalk-206.html
Thornes 2013 – By George Garthwaite
W.S.P – 2012 – By Eddie Cowie
https://www.youtube.com/watch?v=hvmoc0CNDck
Paul Watson - Clip
https://www.youtube.com/watch?v=8dLg3oUKIj4
Sam Taylor – Big Ollie Clip – Zak
https://www.youtube.com/watch?v=RTawrD1_Zpo
Shakey Wakey – By Eddie Cowie
Park Trip Clear Out Footage 2011 – By Josh Hunter
Rotherham Plaza & Bowl Edit – By Josh Hunter
ONLINE ORDERS
Search for the item you want by using the menu on the left. To order just click "Add to basket" The Shopping Basket will allow you to delete items or change quantities and will calculate your carriage charge depending on the size of the item. To complete the order you will need to click on "Check Out". At this point it is necessary to register your personal details. You will then need to enter your payment details in our secure area to complete the order.
IS THE ONLINE ORDERING SECURE?
Shopping using a card has now become an accepted way to pay for goods or services. We are all comfortable with handing our card to a shop assistant or waiter, or giving our card details to someone on the other end of the telephone.
For many people however putting card details into a web site is still uncomfortable, as we are not sure what is happening to the information we are submitting or where it is going.
When you shop with a merchant who uses Paypal you can be assured that your card details are securely encrypted during transport over the Internet so no one can read your card information. The card details are only transported to a Bank to authorise your purchase.
TELEPHONE ORDERS

Telephone us with your requirements, credit card or debit card details and address for delivery (which should normally be the address of the registered card holder). We take Visa, Mastercard, Switch , but cannot take Solo or Visa Electron over the telephone.
We will confirm availability of stock and arrange dispatch. For security reasons we recommend that you do not e-mail or fax your credit/debit card details to us.
HOW LONG WILL IT TAKE FOR MY ORDER TO BE DELIVERED?
If all the items you ordered are in stock we will normally ship your order within the next working day. All efforts are made to fulfill orders within 2 working days, however additional and unavoidable delays may occur subject to product availability.
International orders - Price on asking
All attempts are made to ship within for 48 hours from receipt of order, subject to supplier availability.
Please note that we cannot accept international credit card transactions.
My goods have not arrived / damaged in transit?
In this event please contact us on 01924 381300 Claims regarding damaged goods, short delivery, non delivery or incorrect goods cannot be entertained unless received within 7 days from receipt of the goods.
Special Order Goods
Non stock items ordered to your specification are non refundable / returnable "If not required" (minimum deposit of 20% must be given to order)